Austin's commitment to music, culture, lifestyle and a robust 21st-century economy have made it the best place to live in America.
When Austin earned the ranking of "Best Place to Live in America," a lot of eyebrows went up. When you consider all the possibilities, south central Texas may not pop into your mind. But facts are facts, and when you add up everything that Austin has to offer, it stands alone.
Arts and Culture Mecca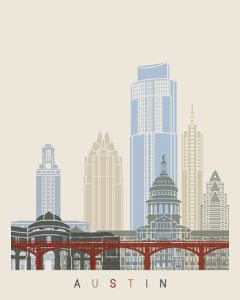 When people think about the arts and cultural centers of the world, places like Paris, San Francisco, New York City, Cannes, Florence, and others come to mind. The fact of the matter is that no one, no one holds a candle to Austin when it comes to drawing cutting edge and A-list musical talent.
The most important music gathering in the country, possibly the world, is Austin's South by Southwest (SXSW) conference and festival. There are over 100 stages scattered throughout the city, and more than 2,000 acts perform. Every upstart artist wants to get in because if they can woo the crowd and industry insiders at SXSW, it means the overnight success.
That being said, Austin residents gain a tremendous benefit from SXSW. During the 10-day March gathering, the area will be flooded by free, unofficial concerts and parties. Locals are always in the know about excellent live music held at venues on the outskirts of Austin or annual house parties. Musicians from across the continent are competing to just play these free shows in hopes of getting discovered.
Mega-companies such as Spotify, Miller and many others hold personal events to promote their brands. In recent years, Jack White and Kanye West have played corporate gigs. On top of that, sponsors tend to give away food and drinks. SXSW also includes a film and technology aspects as well. People living in and around Austin can always buy a pass and take in the full 10 days of A-list music, but the underground scene may be more fun. The other main Austin-held fests include:
Austin Film Festival: Held at the Paramount Theatre in the historic district, this 20-plus-year fall showcase of premieres and screenings trends toward the art of screenwriting. The Texas Book Festival is held about the same time each year as well.
Moontower Comedy and Oddity Festival: This fledgling fest pops up at various venues around Austin in April. However, headlining shows are held at the Paramount Theatre. Past acts have included Aziz Ansari and Kids in the Hall. Colin Quinn is slated to play this year.
Austin City Limits Music Festival: From popular TV show to real life music fest, the eclectic lineup spans two weekends and showcases talent from rock to rap to roots. It's generally held at Zilker Park near downtown Austin.
These major events are just the tip of the arts and cultural iceberg. New York may be the city that never sleeps, but Austin is The Live Music Capital of the Word!
Rare Quality of Life
People in Austin find themselves in a geographic dreamscape. The state capital enjoys a landscape where the Colorado River separates the blackland prairies from the Texas Hill Country. Rich with parks, rolling hills, flourishing fauna, and wildflowers, its natural beauty is topped off with a climate that encourages outdoor living. At the heart of the city, the University of Texas at Austin — the flagship of the state's higher education system — nourishes an intellectual environment for those who live and work in this progressive oasis. Life here strikes a wonderful balance between work and play not found in many major cities.
Economic Opportunity
The economic opportunities in Austin far outpace many places in the United States. Unemployment stands at only about half of the rest of the country while recent job growth nearly doubles the national average. Income per capita, household and family median income all outpace national trends, and perhaps that has something to do with there being no state income tax. Regarding moving to Austin, check the box about keeping more of your hard-earned wages.
The terrific economic prosperity in Austin has a good deal to do with it being a national Mecca for the technology sector. The Wall Street Journal Marketwatch ranked the area No. 1 for business growth, and Forbes has tapped it as one of the Best Places for Business Careers. It hosts top tech and online companies such as Apple, Amazon, Google, PayPal, 3M, AMD, Samsung Group and Facebook among others. California may boast having Silicon Valley, but Austin has "the Silicon Hills."
The biotech industry also calls Austin home and has been named a Top 15 life science center by the Milken Institute. What all this adds up to for the people in the Austin community is a greater economic opportunity.
Austin has been called the best place to live in the country for a good reason. It leads from the front regarding arts, culture, lifestyle, education and opportunity.